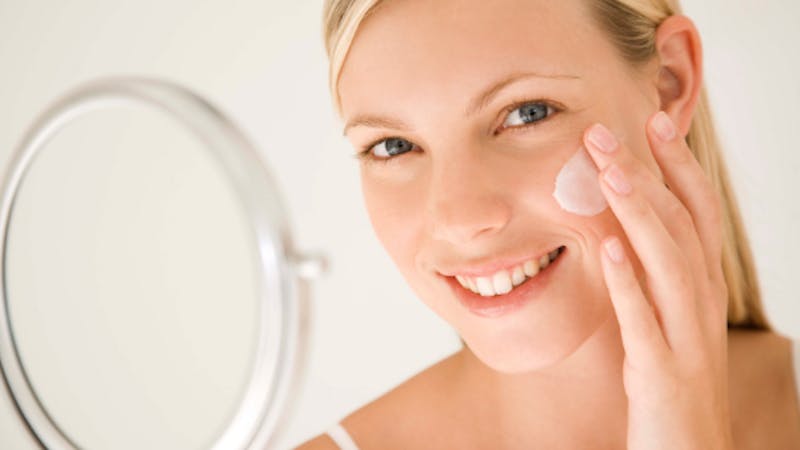 Walking down the skincare aisle at any beauty store or pharmacy can be an experience of sheer intimidation thanks to the overwhelming number of products all promising clear, smooth, radiant skin.
Before you walk down that aisle, arm yourself with the right information about skin care products, which ones you should have and which ones you should pass by.
1. Exfoliants
Depending on how hard you are on your skin, and how dry it usually is, you'll need to use an exfoliator at least twice a week. Exfoliators help the body get rid of dead skin cells that hang around. Exfoliators come in two forms: mechanical (scrubs or microdermabrasion) and chemical (glycolic acid, lactic acid, salicylic acid, etc.).
2. Cleanser
Never should you be putting strong bar soaps on your face. Instead use a cleanser night and day to remove makeup, dirt, debris, and other impurities. A variety of cleansers exist in different forms. Just pick up the one that's best for your skin type.
3. Eye Cream
The sensitive skin of the undereye area wrinkles easily and can become dry quickly. Eye creams preserve the delicate texture of this area while preventing future wrinkles and reducing existing lines. Look for a cream that's specifically designed to treat unwanted characteristics of your under eye areas such as puffiness or discoloration.
4. Sunscreen Moisturizer
The best way to protect your face from sun damage is by using a daily sunscreen. A large variety of moisturizers and even many foundations have built-in sunscreen. Or you can apply a sunscreen a few minutes before applying your daily moisturizer.
5. Serums
For deep penetration of nourishment to your skin, use a serum. Serums are especially useful for pigmentation, large pores, and fine lines.
To find out the best products custom tailored for your skin type in each of the above categories, talk to a skincare specialist. A specialist will be able to assess your skin needs and recommend the most effective products.