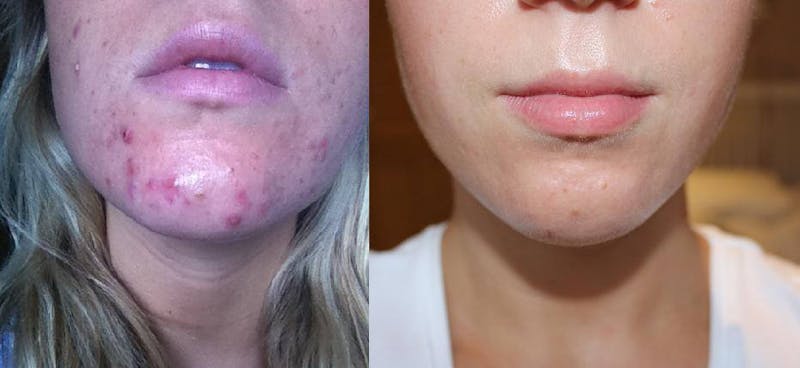 Are you always thinking to yourself "I hope they don't notice my acne scarring" or "Are they looking at my pimples?"? I was thinking about those things too until I learned about Fractora! Fractora, by Inmode, is micro-needling but it's not your average Joe! It also utilizes radio frequency energy to encourage contraction of the skin while repairing texture! Personally, I HATED my acne and acne scarring. I HATED being in photos. I HATED feeling like there was nothing that could be done to help my skin. I have tried lots of expensive products and treatments without any results. I really felt like my skin was a lost cause until now! After three Fractora treatments 4 weeks apart, my skin is better now than it has ever been. After everything I had tried, I could not believe how great my skin looked.
So how does it work?
Fractora is fractional skin resurfacing by a micro-needling technique that also delivers radiofrequency energy through various depths of skin using tiny pin electrodes. This creates microlesion areas of ablation, coagulation, and heating that causes contraction of the skin. As the skin heals from this you see improvement in skin complexion, reduction in skin irregularities and scarring, and restored skin with a reduction in wrinkles giving a more youthful, radiant appearance. You can see the benefits of Fracture with one or multiple sessions depending on patient preference. Fractora can be used on active cystic acne and old acne scars, usually resulting in a 50% reduction in acne scarring. There is minimal downtime with Fractora, patients can usually wear makeup in 1-2 days.
Fractora has significantly changed the look and feel of my skin. I have gained a whole new level of confidence! With the help of Natalie, my aesthetician at Radiance, I also better know how to take care of my skin and prevent further damage.
If you have current acne and or old acne scarring, you are not alone! You have already tried what seems like every method on the market to no avail. So what is stopping you now!? Give us a call at Radiance and see if Fractora is right for you! You deserve it!