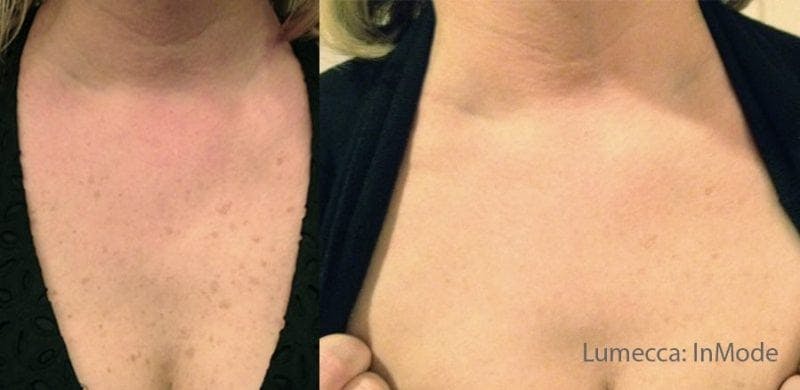 The Lumecca IPL device by Inmode and offered at Radiance by Roller, is a safe, non-surgical treatment using the most powerful Intense Pulsed Light (IPL) device to treat common skin blemishes and irregularities. It is more effective and superior to other IPL devices on the market.
Lumecca is a therapy that is used for many different skin conditions. For aesthetic purposes, it helps improve skin tone and decrease hyperpigmentation (dark spots) caused by sun and aging, rosacea and even acne. Following treatment, the overall look of the skin is more even and radiant.
There are many different options on the market for IPL therapy. There are many reasons why Lumecca IPL has proven to be more effective and why we chose Lumecca for our clients at Radiance:
The number of treatments is less: 1-2 treatments compared to 6-8 with other IPL devices.

A high pulse repetition rate and a larger area that can be treated at a time to reduce the treatment time for each session.

The tip of the device is made of sapphire which causes a strong cooling sensation and gets rid of the need for topical numbing.

There is no recovery time: the IPL does not cause peeling or redness following treatment. The only things that are required post-treatment is limiting sun exposure and wearing sunscreen for a couple of weeks following treatment.
I have personally had one treatment of the Lumecca IPL at Radiance and am thrilled with the results!! I had a little bit of everything wrong with my skin: rosacea, hyperpigmentation and occasional acne. I opted to treat my face, neck, and chest since I had uneven skin tone in all three areas. I did my first treatment about a month ago and my skin looks and feels great!
I was nervous about the procedure, afraid it was going to hurt or that I would have some sort of reaction. I was worried for no reason, each pulse is a flash of bright light that kind of felt like a tiny rubber band snapping my face. The whole treatment was done in 30 minutes and that was with two passes.
Following treatment, my face felt like it was sunburned for about 20 minutes and then felt normal. I was able to apply makeup right after treatment and go to an event that night with no issues! I noticed right after the treatment that all of the dark spots on my face got darker, within 2-3 days they started raising and flaking off, Amazing!! I can't wait to have my next treatment to see just how much better my skin looks. Treatments are usually 4-6 weeks apart. Fall and winter are the perfect times to have Lumecca.
Whether you are wanting to look younger or just more radiant, Lumecca is a great choice!! Call us at Radiance to find out more about this amazing treatment!!