[et_pb_section bb_built="1″][et_pb_row][et_pb_column type="4_4″][et_pb_text]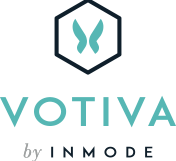 Votiva is your number one choice for a safe and effective treatment for feminine health.
Do you or someone you know have these common feminine health concerns?
Low pelvic floor strength or muscle tone
Elasticity
Low blood flow
Low sensitivity
Pain
Low level of sexual interest
If you have any of these feminine wellness issues, know that you are not alone. Millions of women also have these problems stemming from childbirth, menopause or just natural aging.
But now there are new choices like Votiva by InMode that are effective, easy and painless.
Talk to a doctor at Radiance by Roller today to develop a customized treatment plan. Call us at [phone number] or visit [website] to put yourself and your quality of life first.
What are women saying about Votiva?
"I don't have to be as conscious about getting when I have to empty my bladder. Votiva turned the clock back atleast 20 years. My quality of life has improved dramatically." –Jan 59yrs old
If you would like to talk about sexual dysfunction:
"Before Votiva it was hard for me to really enjoy being intimate. I simply didn't feel alot. After I had Votiva, I was more sensitive and was fulfilled every single time. Both me and my partner can notice the difference and we are both thrilled." – Theresa 47 years old
[/et_pb_text][et_pb_post_nav _builder_version="3.11.1″ in_same_term="off" title_font="|700|||||||" title_text_color="#ba4e8d" saved_tabs="all" /][/et_pb_column][/et_pb_row][/et_pb_section]